New article published in International Critical Thought on Western Marxist misrepresentations of Chinese socialism
A co-authored article with Yan Ping has been published: 'Not Some Other -ism' – On Some Western Marxist Misrepresentations of Chinese Socialism'. International Critical Thought. The first fifty copies of the 'pre-print' can be downloaded via this link (here). The article is currently available in online format and will appear in June in issue 11.2 of the journal.
Abstract: This study tackles four Western Marxist misrepresentations of socialism with Chinese characteristics, particularly as it has developed with the reform and opening-up: "capitalist socialism"; "bureaucratic capitalism": "capitalism 'with Chinese characteristics'"; and "state capitalism." Each of these misrepresentations sets in opposition the economy and the state, with the former being seen as "capitalist" (in some form) and the latter as variously "authoritarian," "bureaucratic" or simply as "interventionist." In other words, "Chinese characteristics" designates the superstructural feature that determines—incorrectly in light of Marxist analysis—the economic base, which is mistakenly seen as capitalist. While each misrepresentation has its own distinct problems, they also have common problems: a voluntarist position on political decisions, which fails to provide any reason for a "capitalist turn"; the assumption that a "market economy," wherever and whenever it appears, is by definition capitalist; the deployment of neocolonial and "Orientalist" assumptions coupled with a Western "betrayal narrative"; and a systemic neglect of Chinese language research. The conclusion provides a summarising assessment that focuses on the empirical flaws and methodological presuppositions of these misrepresentations. We emphasise that our focus is primarily on the internal problems and inconsistencies of these misrepresentations, although we also offer—where needed—some constructive alternatives.
Keywords: Socialism with Chinese Characteristics; Western misrepresentations; neoliberalism; bureaucratic capitalism; state capitalism.
Now Published: Socialism with Chinese Characteristics – A Guide for Foreigners
My new book has been published: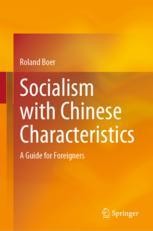 2021. Socialism with Chinese Characteristics: A Guide for Foreigners. Singapore: Springer. The full book in e-format, listed in chapter sequence, may be found here and here. A detailed synopsis of each chapter of the book may be downloaded here.
The chapter titles are as follows:
Chapter 1. Introduction: Marxism as China's Special Skill
Chapter 2. Reading Deng Xiaoping
Chapter 3. Contradiction Analysis: History, Meaning, and Application
Chapter 4. The Marxist Basis of the Reform and Opening-Up
Chapter 5. China's Socialist Market Economy and Planned Economy
Chapter 6. Seeking a Xiaokang Society, or, Socialist Modernisation
Chapter 7. The Chinese Marxist Approach to Sovereignty and Socialist Human Rights
Chapter 8. Socialist Democracy in Practice
Chapter 9. Socialist Democracy in Theory
Chapter 10. Xi Jinping on Marx and Engels
Conclusion: Socialist System and Cultural Confidence
Article on 'Countering Hegemony' added to Chinese Marxism page
2021-04-01: 'Countering Hegemony [fandui baquan]' is a term the world will hear more and more in the coming years and months. It is a common term in the Chinese Marxist vocabulary, but it was highlighted in Yang Jiechi's now famous speech at the Alaska summit in March of 2021 (see below). My piece explains the term's meaning and history in some more detail. You can also download the piece here.
Updated version of 'What About the Chinese Workers?' added to Chinese Marxism page
In light of futher research, I have substantially revised my piece from 2018 on the Chinese workers. It can be found on the Chinese Marxism page (also download here). My revision was in part inspired by the desperate efforts of a fragmented and rapidly fading 'West' (a dozen or so former colonisers) to promote 'atrocity propaganda' about working conditions in Xinjiang. As should be clear to anyone, this kind of 'Western' material is pure lies and fabrication. To set the record straight, my piece points out that almost 800 million rural and urban workers have been lifted out of poverty in the last four decades – one the greatest human rights achievements in history.
The difference between a rules-based international order and Western liberal hegemony
2021-03-25. This is the tile of a new piece I have added to the Chinese Marxism page, in a section called 'Community of Common Destiny for Humankind'. As should be clear by the title, Western liberalism is unable to produce a rules-based international order. All it can do is try to impose its neo-colonial will on unwilling others. What is emerging today through the initiatives of China, Russia, and others, is a proper rules-based internatonal order. You may also download the piece here.
Two videos you must see
The first is the speech of Yang Jiechi at the Anchorage dialogue between China and Russia on 19 March 2021. If you want to hear the English translation, please go to minute 28 and then watch the body language of the US delegation. They are broad-sided and everything about them indicates that they know deep down their empire is over. By now it should be clear that China has stepped onto the centre of the world stage. 1.2 billion people have already watched this recording, and many more around the world have already done so on other platforms.
The second is the press conference with Wang Yi and Sergei Lavrov, the foreign ministers of China and Russia in Guilin, China, a few days later. For those who have been following their 50 or so meetings so far, you will know that China and Russia are now the anchors of stability in the world today. Now they have gone a step further: the era of a few Western countries – all former colonisers – asserting their hegemony on the world is over. In other words, liberal hegemony – which is the small community of the free and its dictatorship over the vast majority of the unfree – is being relegated to the dustbin of history. In its place, a properly rules-based order that respects the sovereignty of each country is emerging as the new normal. China and Russia are leading this rules-based world order, supported by the majority of countries around the world.
The Most Watched Press Conference in the World: Foreign Minister Wang Yi in 2021
Since China has stepped onto the centre of the world stage, the annual press conference by Wang Yi, Chinese foreign minister, has become one of the most watched events around the world. This is particularly the case in developing countries (80 percent of the global population). This press conference, held during the annual 'two sessions' of China's parliament, went for a marathon of 1 hour and 40 minutes. This press conference provides the best insight for international observers into China's path as it celebrates the centenary of the CPC.
Two part documentary on 100 years of the CPC in the eyes of Michael Crook
I have added to the 'Documentaries and Films' page two short videos featuring Michael Crook on his parents, Isabel and David Crook. Both were and are communists who have lived in China for decades. Indeed, Isabel was 6 years old when the CPC was established in 1921 and she has seen the CPC transform China from one of the poorest countries in the world to what it is now. Michael himself was born in China in 1951 and has lived in China for his whole life. I have have met Isabel and Michael on a number of occasions in Beijing. Well worth a listen. I have added two other videos, one focused on Michael, in which he speaks perfect Chinese, and a longer one on Isabel Crook.
China's Promotion of Human Rights in Xinjiang
On the Chinese Marxism page, I have added links to a number of publications by the Chinese State Council Information Office in relation to Xinjiang:
Further, if you are interested in the source of the baseless 'atrocity propaganda' being promoted in a small number of fading 'Western' countries (but certainly not in developing and Muslim-majority countries), then I recommend a number of articles in 'The Gray Zone':
Historical Nihilism in Relation to China
What is 'historical nihilism [lishi xuwuzhuyi]'? It means that one denies the importance of the proletarian revolution, negates the leadership of the Communist Party, and ignores Marxism or suggests that Marxism is outdated and that China has abandoned Marxism.
A good example of the effects of historical nihilism is the Soviet Union. In the 1980s, there was intense ideological struggle, during which the achievements of the October Revolution and the Soviet Communist Party were denied, Lenin and Stalin were belittled, Party organisations at all levels lost their way, and the military was no longer under the leadership of the Party. The result: 'the massive Communist Party of the Soviet Union scattered like birds and beasts [niaoshousan], and the vast socialist state of the Soviet Union collapsed and fell apart [fenbeng lixi]' (Xi Jinping 2019). In short, historical nihilism is the favoured tool of those hostile to the communist project, those who seek to vilify and slander China and its path.
On the 'Chinese Marxism' page, I have attached a new piece that outlines some of the main genres of such historical nihilism. These include:
Secular Apocalyse ('China doomers')
Dystopian Fiction (with its attendant 'atrocity propaganda', such as that peddled by the BBC)
Ghost Story (Spooks everywhere!)
Conspiracy Theory
Orientalist Mystery
Sectarian Intolerance
These genres are popular in the small number of countries known as the 'West' (which comprise only 14 percent of the global population). Sadly, it includes a number of Western Marxists, who have lined up the international class struggle on the side of capitalist or bourgeois states.
You can also download the file here.
Mao Zedong Never Called Deng Xiaoping a 'Capitalist Roader'
After some in-depth archival research, I have found that – contrary to the opinions of some – Mao Zedong never called Deng Xiaoping a 'capitalist roader'. Instead, it was other Leftists, especially the Gang of Four (a negative term coined by Mao himself) who did so initially in 1966 and then again in 1976. Mao never did so. A fuller version of these findings may be found here and on the Chinese Marxism page.
Shattering the myth that all N. Koreans want to defect to S. Korea
NP sent me a link to an interesting and revealing article that punctures the myth of North Korean 'defectors'. You can find the article here.
Marxist Political Economy set to guide the Fourteenth Five-Year Plan
2020-12-19. Obviously, I have rearranged some matters, with the most significant being a new page concerning the School of Marxism Studies, at Dalian University of Technology. In the beautiful and historic coastal city of Dalian in China's northeastern Liaoning province, it has become my intellectual and spiritual (in the Chinese sense – jingshen) home. The page will gradually add features, although it now has some files relating to my inaugural lecture, a seminar series I gave in 2019 on Domenico Losurdo, and a keynote speech on 'comparative Marxist philosophy' from an international workshop that concluded today.
New article by Xi Jinping on Marxist Political Economy and the 14th five-year plan
2020-11-24. On the Chinese Marxism page, I have added a recent article by Xi Jinping, entitled 'Opening Up New Frontiers for Marxist Political Economy in Contemporary China' (2020). The article concerns the central role of Marxist Political Economy in shaping the 14th five-year plan, which is being finalised as I write. It was originally published in Qiushi (Seeking Truth) journal – download Chinese here, and English translation here.
New article published: Dialogue on a Moderately Well-off Society in All Respects
2020-10-31. A new article has been published in a Chinese journal. This is the result of an ongoing dialogue on the Reform and Opening-Up with a collague in China. Details follow. It may also be found on the 'Selected Publications' page.
2020. '全面建成小康社会的观念资源与现实探索' (The Conceptual Resources and Realistic Exploration of Building a Moderately Well-off Society in All Respects). 当代中国价值观研究 (Chinese Journal of Contemporary Values) 2020.01: 5-14. Co-authored with Zang Fengyu. Download Chinese version here, and unformatted Chinese-English bilingual version here.